The Norwegian Center for Stem Cell Research is a national facility dedicated to basic and translational stem cell research, technical training, and public education.
Contact information for general requests:
Phone: +47 22851578 / +47 92287650 
E-mail: Hege.Fjerdingstad@rr-research.no
Media inquiries:
Inquiries from the media should be made to Hege Brincker Fjerdingstad by email or telephone.
Patient inquiries:
All patient inquiries should be made by email to Hege Brincker Fjerdingstad. The Center can not administer patient inquiries made through any other channels.
Professor Shinya Yamanaka visited the University of Oslo and the Norwegain Center for Stem Cell Research in September.
Read the article here: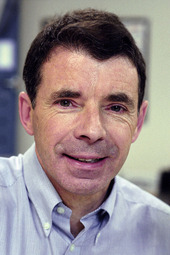 The Norwegian Center for Stem Cell Research invites all researchers interested in neurological diseases to two lectures on demyelination/remyelination to be held by Professor Ian Duncan.
Both lectures will take place in seminar room LU-035 at IMB/Domus Medica Tilbygg, vis-a-vis Rikshospitalet (use entrance to Domus Medica nearest the Gaustadalléen tram station).
16:30 Remyelination is a crucial therapeutic target in MS; how does it happen?
This will be a general lecture about the remyelination process, an important but poorly characterized aspect of the dynamics of demyelinating diseases.
17:30 Mutation in Tubb4a in a rat mutant reveals a novel model of leukodystrophy in humans
Duncan will present here the recently established animal model of human leukodystrophy published in Annals of Neurology earlier this year:
Duncan et al. A mutation in the Tubb4a gene leads to microtubule accumulation with hypomyelination and demyelination. Ann Neurol. 2017 May;81(5):690-702.
Light food and drink will be served.
About the lecturer:
Ian Duncan has had a long-standing career researching myelin and demyelinating disease with a publication list (www.ncbi.nlm.nih.gov/pubmed/?term=duncan+id), that includes high impact papers in Nature Med, Lancet og PNAS. In 2015 he was awarded the Lifetime Excellence in Research Award by the American Veterinary Medical Association for his career-long contributions to research on demyelinating diseases from animals to humans. From the award announcement: "Dr. Duncan has spent his career exploring the causes and potential solutions for myelin disorders in a variety of species. Duncan pioneered studies on the use of stem cell transplants to repair central nervous system disorders and has investigated genetic causes of myelin. In 2009, he and his colleagues confirmed that nerve cell function could be restored through remyelination, the process of regrowing myelin."